Schedule a Personal Healing

It's human nature to get caught in the same negative patterns, the same emotional spirals, the same limiting stories. What if you had an effective way to accelerate your transformational path?
Through the process of transformation, you can awaken to deeper truth and break free from the disempowering cycles blocking you from peace, happiness and your freedom.
With Multi Dimensional Healing you're working with Universal energy based in Divine Mother love in a sacred interface between worlds souly devoted to your evolution and the evolution of the planet. Get Divine assistance to help clear deep karmic and genetic conditioning with their corresponding blueprints, to assist your awakening journey.
+++++++++++++++++++++++
"I wasn't sure if they were going to be scary, drumming-up past traumas I didn't want to remember. But that wasn't the case. Bette was there every step of the way! Truths of self-love, divine self-reliance, creation and infinite peace were unearthed gems of awareness if I chose to let them sparkle and aid me. Vivid dreams and some intense physical sensations arose during some of my sessions, but it all made me stronger. Ultimately causing me to want and know more - allowing the stories to unravel versus staying in stuck patterns forever. It was energetic therapy in the most gentle, loving and limitless way."

~ Client Testimonial Trauma Session Package

+++++++++++++++++++++++
If you're ready to
shift out of unwanted patterns
break free from self-defeating cycles of negativity

ease physical and emotional s

ymptoms

dissolve attachments to the stories keeping you stuck in the past

increase clarity and vitality

clear obstacles preventing your growth

develop a more fulfilling relationship with yourself and all of life

expand awareness

clear the way for

your infinite

self to emerge
You'll feel empowered during the integrative process following a proven formula specifically designed for dimensional release: grounding, regulation, embracing & relaxing, letting go, integration reorientation and embodiment.,
+++++++++++++++++++++++
"I need to tell you that my eyes healed up completely several days after our last session AND I had a BREAKTHTOUGH session in clearing out terror and anger from many years ago...Whatever our peeps did, it was PHENOMENAL!"
~ Client with a Physical Issue
+++++++++++++++++++++++

Unhealed trauma is the worlds biggest issue. People tend to believe the negative thoughts bubbling up within and reinforced by the environment around them. Global visionary and author of the book 'Healing Collective Trauma', Thomas Hübl writes: "we are all born into a traumatized world. That is why we only know it this way, and it seems normal to us at first. ...The individual trauma in a personal life is not a separate and isolated event, but is embedded in thousands of years of traumatization, and also in the approaches to healing it." Hübl surmises that as panic and insecurity arise in a society, we lose the higher functions of humanity, like compassion, multi-perspectivity, creativity, and rootedness, and find ourselves in fear of survival, divided, and pitted against one another,
To break free of the effect of habituated traumatization, you need to see it, embrace it, own it and deconstruct its stigma and attachment.
Whether trauma has directly impacted your personal life, it's also ingrained all around you in culture. The only way to find relief is to examine and transmute the emotional charge on dimensional levels. An emotional charge from trauma wounds is not just personal, it is imprinted in your genes, it's incarnational conditioning is carried over from past lives and also reinforced by society. The focus of a Multi Dimensional Healing personal healing is to deconstruct unresolved trauma wounds on all four places:
personal

ancestral

karmic

collective
The result is

powerfully

transformative — not just for you, but for your ancestors, children and all of humanity.




+++++++++++++++++++++++

"Having worked with Bette for several years in both group and private sessions, I jumped at the opportunity to specifically confront decades-old trauma from loss of a family member. After the sessions, I have had greater peace in my life, & also new job opportunities presented themselves, no coincidence in my opinion!! Although we weren't physically together during the appointments, I felt Bette energetically by my side every step of the way, as a loving connection & witness to the Divine Source."

~ Client Review


+++++++++++++++++++++++



MDH *Personal Session + Package DISCOUNTS
$200 - 90 Minute Session
$450 - Package of 3 Sessions (Save 25%)
$825 - Package of 6 Sessions (Save 30%)
$1100 - Package of 9 Sessions (Save 40%)
$2000 - Package of 20 Sessions (Super Saver 50%)
Subscribe to te MDH Newsletter to revive exclusive discounts.
EXPAND AND AWAKEN YOUR AWARENESS
We are radiant spirits of Grace and love. As we remember our core truth by clearing out unprocessed emotional wounds ar root level, the way we perceive the world suddenly changes, and we find ourself without any sense of separation. We discover we are an intricate part of life -- we ARE life -- and begin to awaken. The next step is to express it in every part of our lives, to embody our awakening through living it in our everyday life, uplifting the consciousness of the planet.
In his book, the End of Your World, Adyashanti offers wisdom on the nature of inner change. "Full awakening comes when you sincerely look at yourself, deeper than you've imagined, and question everything. It's an honest investigation of what you really are -- and how to live once you discover it."
When perceive that we are the totality of life, we are no longer frightened by it. We respond to circumstances with more ease. But until we see that, we will still see life as a struggle to get through it.
"You have projected onto yourself a world of your own imagination, based on memories, on desires and fears, and you have imprisoned yourself in it. Break the spell and be free. …Once you realize that the world is your own projection, you are free of it. …You are the infinite potentiality, the inexhaustible possibility." ~ Sri Nisargadatta Maharaj, I AM THAT
If its your calling to help heal the world through healing yourself --- and really start expressing and embodying the life you were born to live -- consider personal sessions a bridge to manifesting more health, wellness and awakening awareness of your Universal Presence.
In an awakening world that's in transition, now more than ever, its up to us to take charge of our own awakening, to create the kind of positive shifts and new visions for ourself, our communities, and the planet.
Imagine the empowerment of getting help to heal, transform, evolve and awaken from cosmic forces in a safe and sacred container of love.
+++++++++++++++++++++++

"I have been doing multidimensional Energetic Trauma healing with Bette Hanson for the last two months. I have diagnoses of complex PTSD, anxiety, and clinical depression. Over the years I have tried DBT counseling, EMDR, traditional psychotherapy, Somatic Experiencing Therapy and Healing Touch. Each of these modalities has been helpful in my healing journey. My work with Bette is much different from the other modalities I have experienced. The client is in a receptive state with Bette using her expertise to strengthen what needs strengthening, build what needs building, take away what no longer serves and bring what is ready for healing to the surface so that I can work with it. Each session brings new surprises and a deeper understanding of what the roadblocks are that have been holding me back. Little by little, Bette has been chipping away at these. I have noticed a gradual shift in my mood--like my baseline has become higher. I would highly recommend Bette's healing techniques."
~ Client Testimonial Presenting with Trauma

+++++++++++++++++++++++
=======================
NEW CLIENTS
PLEASE SUBMIT A CLIENT INTAKE FORM BEFORE YOUR FIRST SESSION.
+++++++++++++++++++++++

"Thanks so much for the session, Bette. Been processing since yesterday morning. Felt very peaceful all day. Definitely hit a deep pattern, feeling a bit "ouch" since last night but it's good that it's coming undone."
~ Client Review
"Bette has a great sense of knowing when shifts are happening and as I felt in synch with her on this level, it deepened a trust with the Divine. She has a real flow with words, that sets the stage for the session and draws you in throughout. ...To be able to surrender that which no longer serves you is a real gift, and I'd urge anyone to experience it!

"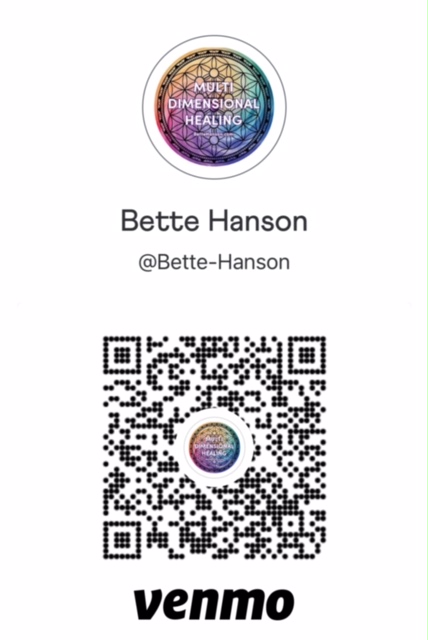 *Disclaimer: All fees are due and payable prior to first session. All amounts paid are non-refundable and non transferable to other services. Payment for MDH services is for time shared and not results. It is not a substitute for medical evaluation, treatment or psychological therapy. Please seek appropriate personal care.
"VortexHealing®" is a registered service mark of R. Weinman VH Trust. All rights Reserved. Used here with permission.