~~ BETTE HANSON ~~
MULTI DIMENSIONAL HEALING
Evolutionary Energy for Transformation
Multi Dimensional Healing soul purpose is to serve your transformational journey, to help you awaken and embody your awakening as truth.
Whether its in a group healing, personal session or workshop advanced energies help you to ground deeply and navigate an often confusing path to assist you in manifesting your potential. You'll work with Source Intelligence of the highest order in an interface between worlds. A consortium of ambassadors are dedicated to showing you how your transformation is a part of the planets evolution: the Divine Mother Collective, Master Healers, Archangel Realm, star lineages, Gaia magic to include the elements, winds and kingdoms, Christ Consciousness, Goddess's etc... This nurturing space creates a safe haven forded and lasting change on all levels.
With intuitive gifts spawned from years of advanced energetic practice, literally thousands of hours of VortexHealing® Divine Energy Therapy --Multi Dimensional Healing is here to serve you.
We as a human race have become disconnected from our primordial source of Divine Earth energies. Truth means to reconcile our equanimity and homeostasis on dimensional levels to reconnect us to each other as One body electric.
If YOU are on a spiritual journey, in any form of self development or just seeking to better yourself, Multi Dimensional Healing is here to serve you. It's a unique and amazing opportunity to explore and experience your dimensional nature safely, organically, wrapped in the arms of the Divine. Whether you are a seasoned healer, or new to energy, each experience is uniquely different every time you participate. It meets you where you are and provides exactly what you need. When working with this energy, the best advice is to let go of expectations and be open to the experience as it unfolds. Source guides the process to heal, transform, awaken, evolve and ultimately -- embodying your truth, to be a living expression of a new vision on Earth.
Lokah Samastah Sukinoh Bhavantu May Peace & Happiness Prevail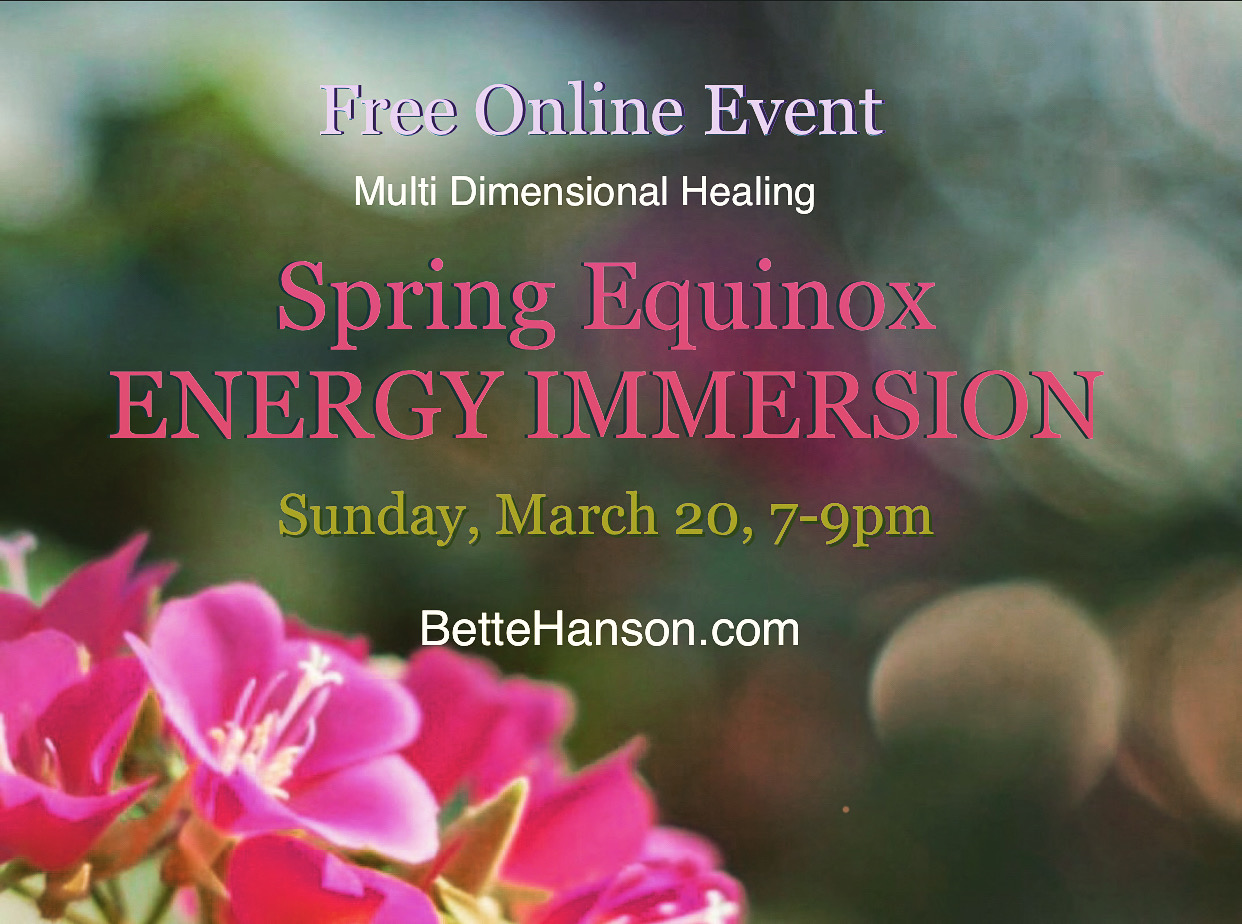 Get your FREE Spring Equinox Energy Immersion Recording
The Spring Equinox is Mother earth's celebration of rebirth which takes place during March's full moon on the 20th. We'll use this auspicious time to harness the potent energies for the intention of grounding in unity and balance.
Every Multi Dimensional Healing gathering develops the human collective consciousness through the morphogenetic fields of energy. In this sacred space between worlds, Source Intelligence weaves its magic to to clear our own dissonant patterns reflected in the whole of humanity. As we transform them, the world transforms through us. This is Earthwork we came here to do.
The Energy Immersion meets in a nurtured space of sacred alchemy to help you access innate capabilities and reach your true human potential. Every session is unique — following Source guidance to match the current needs of the human collective in the moment. With turbulent energies surrounding us, it is a potent and important opportunity to gather together in the spirit of unity to release imbalances, let in the light and bring inspiration to our troubled hearts.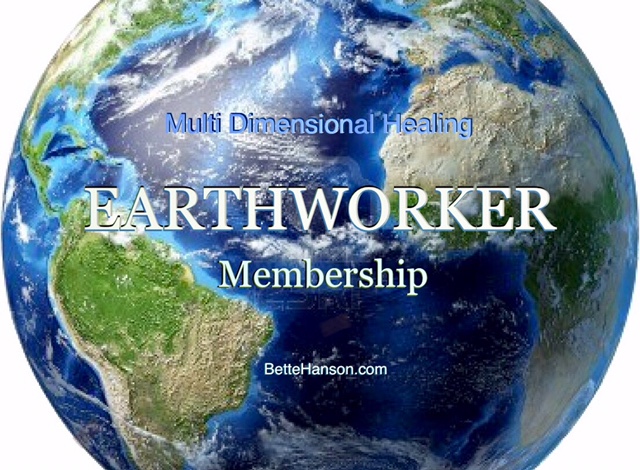 NEW!
An Earthworker is both a membership community and a series of three weekly online groups that offer an intensive transformation opportunity. Each of the three groups provide evolutionary energy with a specific focus following a month-long theme to help you be an agent of change in your life AND in the world.
With the membership, you'll receive help from cosmic forces in your inner healing work, access a private website with exclusive resources, and educational content. The community is about helping you awaken and evolve by giving you the energetic assistance supported by Source Intelligence of the Highest Order.
Are you ready to take an active role in your own transformation?
_________
"You're just amazing.
What a terrific source of information and guidance you share in your follow up emails.
Since listening to the (recordings)) — I've had a profound acceleration of personal healing. I'm calmer and better able to tolerate daily life stressors."
An Earthworkers mission is to awaken out of illusion.
Awakening is like learning a new language of the you that is so much more than you THINK. It can be complex, confusing and downright disorienting at times because its a process of 'unlearning' all that you THINK you know. Having someone there to guide you, to explain things, to navigate trough the maze of phases and talk you through - is crucial.
Like any learning process, it takes practice, time and work. Everyone's approach is uniquely different. With practice. you begin to break down old patterns that no longer serve you entering new, sometimes uncomfortable territory. You
learn to meet fear and see through it as an illusionary concept. As your awareness expands,
you start to
blossom
and
open to something more authentic, full of newfound potential. This something more is a sacred,
higher version -- a new you that's beyond the minds imagination to comprehend. Its something that HAS to be experienced.
"Wow. What a powerful session for me tonight. Right away I felt my guide come in ...I felt a complete and embodied sensation in my body. It was so calm and peaceful. I look forward to a great night's sleep tonight! Thank you, thank you, thank you for doing this work! I feel so blessed to do these sessions with you and to be a part of this group."
-------------------

Being an Earthworker is an invitation to explore
this new 'awakening' language within you. You're a pioneer on your own inner terrain, uncovering darkness and illuminating them in the light of possibility. A key 'find' is your vibrational connection to the energy of all things. Through the course of continuous exploring, you literally become transformed. And as you transform, the world of vibrational interconnection opens up to you as an interdependent one. You realize the world is in you and you are in the world. As you change, so changes the earth in dimensional reciprocity.
If more people did this exercise of awakening, the trajectory of the planet will change.
-------------------------
"For me personally, being in the two groups works really well. They compliment each other perfectly. I've had so much deep movement and healing. I am so excited that I have the opportunity to help heal not just myself but my family both past, present and future. Not to mention the collective on the planet. Doing this work has brought me into a place in my life where I can face difficult life situations and feel strong enough to work through them. I'm finding my strength! I appreciate you walking your path and assisting all if us as we walk ours."
-------------------------
Choose to show
up for
yourself...
FIND OUT HOW TO ADVANCE THE PLANET THROUGH YOUR OWN TRANSFORMATION...
WITH AN EARTHWORKER Membership
FREE Services

Cosmic Guidance

Clear old patterns dimenstionally - at the root of creation

Connect to your Higher Self

Ground with the Earth

Flow with Change

Exclusive Monthly Content
Lifetime Access
Deep Discounts
You Got this!
ARTIST: DAMIAN NOLA -Click Picture to visit his website.
===================
TESTIMONIALS
See what folks are saying below and on the testimonial page:
'As a veteran participant in Bette's Multi Dimensional Healing group sessions, I was intrigued to experience the embodiment energy of the 'tree of truth'. I can say without a doubt that the energy she facilitated went deeper and provided more clarity than I have experienced to date. Wow! Bette's work creates a safe and sacred container for the deep and transformative work of embracing our individual truth on a multitude of levels. Linked with each person's intentions, this new energy amplifies and clarifies the authentic truth and love that each of us holds at our core. What a gift to experience this new embodiment energy!' ~ Cathy C; St Paul, MN

"WOW is all I can say really! A LOT has been going on here with me….Finally getting a real sense of letting go and not attaching to outcomes, people, etc. You read about this and take classes but having it finally resonate with me and to be actually doing it in baby steps and feeling myself doing it is an entirely new experience!! When I am able to do this, I am more able to be in the present moment and be grateful for my life and what I have in it. I have been reaching out to my guides and angels to help me in doing this. I just feel more peace like there is more of ME coming in now and less of other people. I also feel like I am vibrating at a higher energy level and am now finally wanting only that sort of higher vibration in my life and not settling for lower energy or attracting it.
This is all so amazing and awesome! Thanks so much Bette and I can't wait until our next session!!!"
—
Laura Dresser, Mpls, MN
~~~~~~~~~~~~~~~~~~~~~~~
EVOLUTIONARY ENERGY FOR TRANSFORMATION
Multi Dimensional Healing is a holistic energetic practice that utilizes Devi Alchemy incorporating VortexHealing®, Divine Energy at its most advanced levels, Manifesting Intention (MI). It is guided by Divine intelligence based in the avataric and alchemical lneages of magical transformation working through all dimensions down to the genetics.
Guided by intuitive and empathic abilities, Bette also works with MA Satya, the Mother Tree of Truth forming the basis for the foundations of Devi Earth Magic School in 2020 an alchemical grounding energy transforming Truth back to balance. This practice follows intention and allows you to experience and explore the expansive nature of high frequency consciousness designed to heal, transform, evolve and embody awakening.
VortexHealing® is a potent energy healing practice that shifts energy deeply and expansively. While this energy healing modality is not for everyone it tends to attract those on a path of transformat found in ion, transition and awakening. The founder of Vortex, Ric Weinman, describes it as working with Divine magic and Love:
" VortexHealing is much more than a healing art. It is a complete transformational process, empowered by Divinity to work with this Divine Transformational Magic and its expression as Love, bringing divine energy and consciousness to anything in creation that needs it. In practice, this enables VortexHealing to work in a very powerful way on the body, the mind, the emotions, and spirituality, to impact all aspects of the body's energy system, and to transform the deepest karmic issues we hold as human beings. --" Ric Weinman, from the book VortexHealing®, A Magical Path of Healing & Awakening, Balboa Press
With Multi Dimensional Healing, every session, group or workshop is an awakening though the process of advanced energetics alchemizing, transmuting and clearing blocks you conditioning to unveil your Universal Nature.

SERVICES
EARTHWORKER MEMBERSHIP

Online Group Healings:

Advanced Energy Maintenance
Deep Issue Work
Embodying Presence
Personal Sessions


Home/Land Clearing




Relationship Clearing



Experience this holistic practice of energetic healing channeling Source Intelligence of Devi Earth Magic and consciousness of VortexHealing® to heal the body, transform emotional patterns, and awaken Truth. Please visit the Services Page for more information
EARTHWORKER 1 - Advanced Energy Maintenance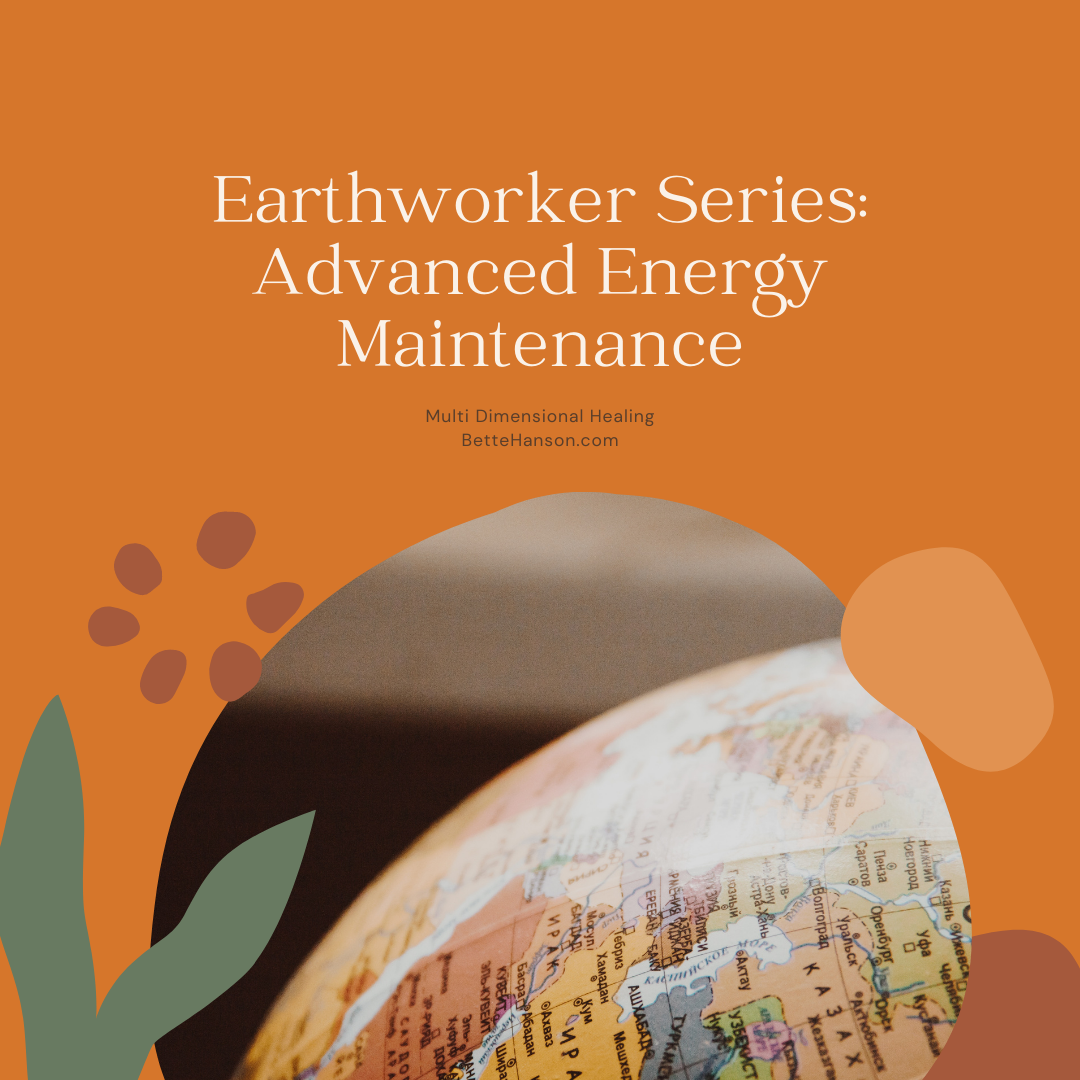 Advanced energy maintenance for transformation.
Monday's 7-9pm Central
This online group is a wonderful community of like minded spirits dedicated to enhancing their energy anatomy by meeting weekly.
$75 Montly Subscription



First month FREE with your Earthworker Membership

Recorded replays with subscription

Subscribe to future months and get an exclusive *EARTHWORKER DISCOUNT
If you're interested in transformation, a strong, clear and balanced energy system is a must. Visit the GROUP EVENTS PAGE for all the details
EARTHWORKER 2 - Deep Issue Work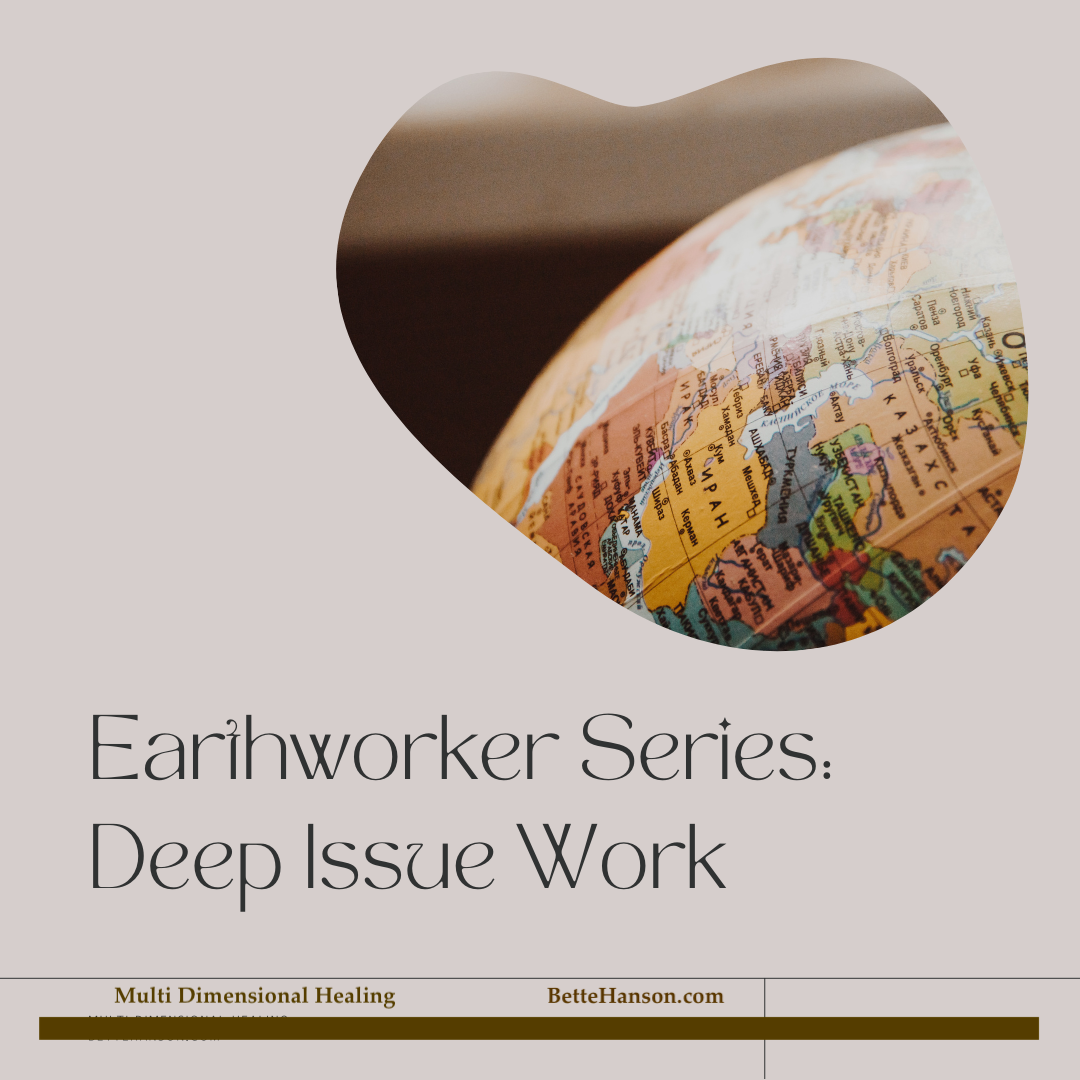 ENERGETIC TRANSFORMATION THERAP Y is advanced issue work for transforming unhealed trauma.
Thursdays 7-9pm Central
If you're passionate about knowing yourself and clearing past patterns, this online group meets weekly to systematically target our biggest issues related to trauma. The multidimensional therapeutic approach is its unique signature to help participants feel safe, nurtured and protected throughout the process.
Meeting week to week, continuously deepens the process of energetic shift targeting the roots of trauma: the karmic and genetic stories keeping it stuck.
It is available as a monthly subscription only */$156 for five 90 minute sessions
Get your first month FREE with an Earthworker Membership
*Subscribe to future months and get an excusing EARTHWORKER Membership discount. Visit GROUP EVENTS for more info.
EARTHWORKER 3 - Embodying Presence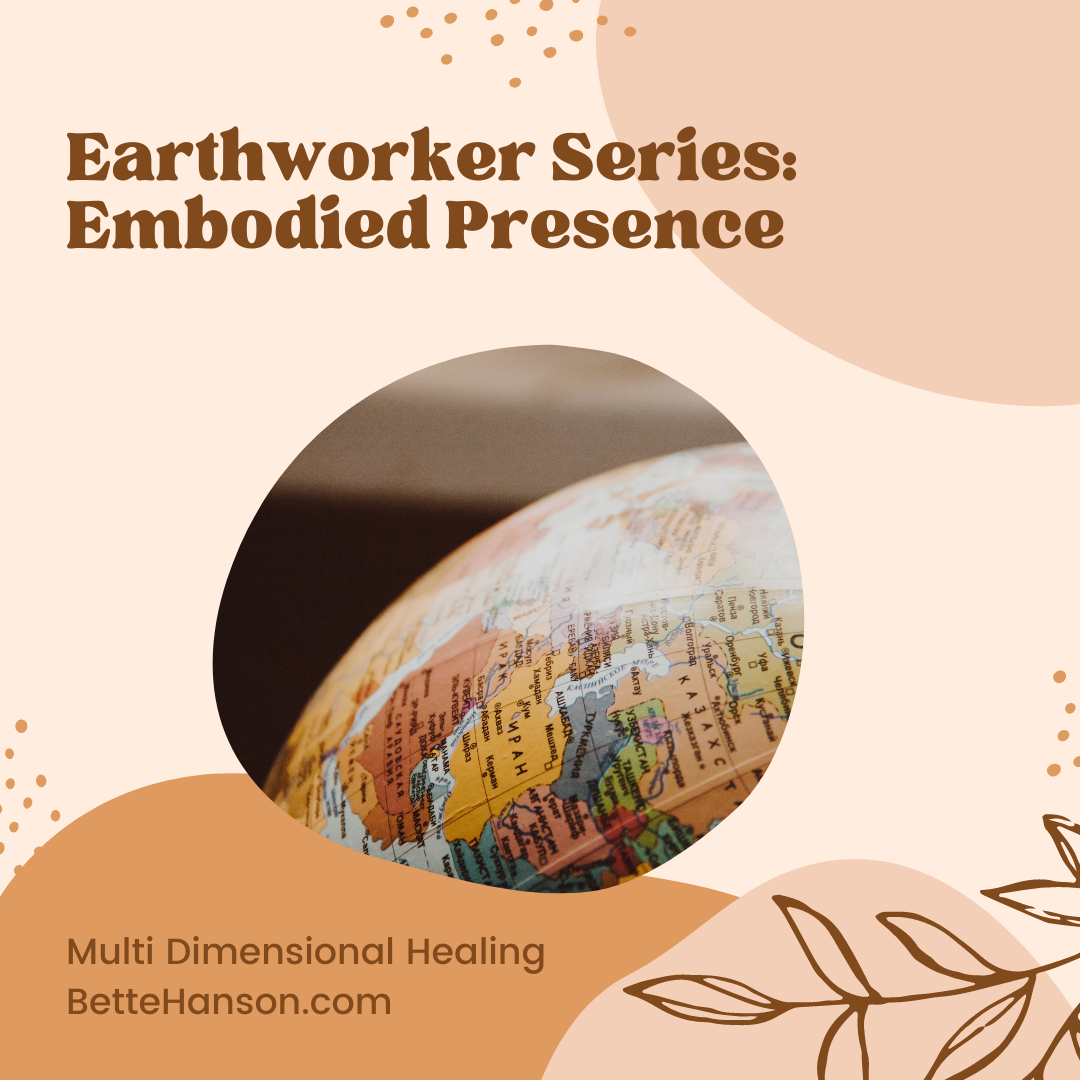 Select Sunday's, 7-8:30pm Central
Starts the first Sunday of the month.
This exciting
Multi Dimensional Healing
offering came as a calling by Source to meet a growing need for embodiment.
People and the planet are divided and disconnected. Build your coherence -- to repattern, reorient and align with the vibrational resonance of Embodied Presence.
Every session is an embodiment exercise for deepening into your True Nature — to feel good, loved, connected and whole again.
LIVING your expansive potential as a grounded Earth being in a karmic world is the challenge we ALL face in this ever changing world.
Now more than ever, it's time …
$75 for four 90 minute sessions WITH recordings
Align with Truth
Strengthen Your Divine Beingness
Connect to the Planet & All of Humanity
LOKAH SAMASTAH SUKINOH BHAVANTU - May Peace & Happiness Prevail
"Let us work together to create a joyous tomorrow, free from conflict, where religions work together in happiness, peace and love. May the tree of our life be firmly rooted in the soil of love. Let good deeds be the leaves on that tree; may words of kindness form its flowers; may peace be its fruit. Let us grow and unfold as one family, united in love—so that we may rejoice and celebrate our oneness, in a world where peace and contentment prevail

."

-- Amma, Sri Mata Amritanandamayi Devi
~~~~~~~~~~~~~~~~~~~~~~~~~~~~~~~~~~~~~~~~~~~~~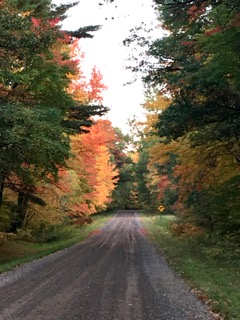 MDH Personal Healing
BOTH DISTANCE AND IN PERSON
Services include sessions via phone/Facetime/WhatsApp/GoToMeeting to serve humanity and the planet at this crucial stage of evolution.
Deep energy work is a crucial part of transformation to bring clarity, balance and awaken deeper meaning.
MDH specializes in clearing genetic, karmic and collective levels creating transformative shifts. This work is guided by Source Intelligence following proven protocols to target your issues. Your benefits include reducing fear, anxiety and stress, energetically increasing your strength, boosting your immune system and awakening your Authentic and Infinite Self. This is evolutionary energy to uplift the spirit and bond you with Nature especially in places numbed by trauma, or hardened by struggles in life.

++++++++++++++++++++
Need to get away in Nature?
Schedule your
*PERSONAL RETREAT ENERGY SESSIONS

IN PERSON appointments in Cambridge Minnesota at ARC Retreat Center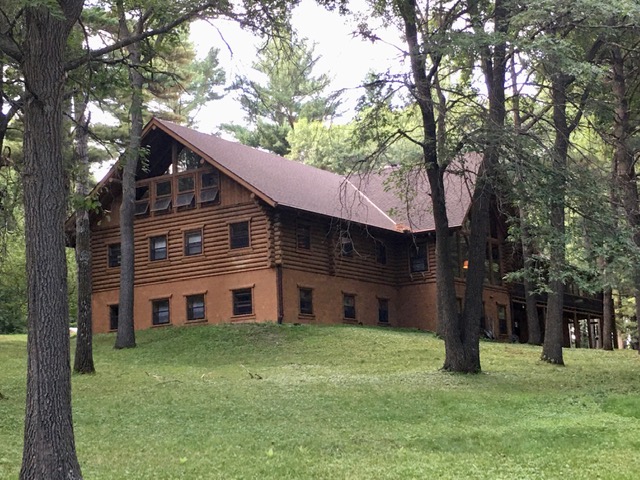 *Book a DAY or OVERNIGHT Retreat in nature & receive a 1-1 personal transformational energy session to include consultation. Walk the trails and spend time on the labyrinth.

ARC Retreat Center
1680 373rd Ave NE,

Stanchfield, MN

~~~~~~~~~~~
OVERNIGHT NATURE RETREAT + SESSION
COMMUTER DAY RETREAT + SESSION
~~~~~~~~~~~

Overnight retreat PLEASE check availability with ARC FIRST before scheduling an appointment. Separate room costs:
$115 Weekdays

$125 Weekends
$150 Double Occupancy
MDH Energy Sessions are $200 for 90+ minutes
BETTE HANSON BIOGRAPHY:
Bette Hanson is a seasoned holistic practitioner trained and experienced in VortexHealing®, an advanced form of Divine energy healing focused on deeply clearing conditioning and blocked energy..
As an empath, intuitive healer, channel and higher consciousness mentor, she is devoted to serving people and the planet. Each group healing, workshop or event is dedicated to creating peace and harmony. This is a type of 'Earthwork' serves to raise and shift consciousness through encouraging peace and awakening awareness out of separation and into our natural Wholeness -- connected to everything.
Through the practice of Multi Dimensional Healing, Bette offers personal sessions, group healings, workshops, relationship clearing and home/space/land clearing/blessing. Certified at the most advanced level of VortexHealing®, MI, since 2006, Bette has accumulated over 1450 hours of classes, with thousands of hours serving clients throughout the country and world. Certified practitioners complete an intensive series of spiritually expansive training based in awakening and self development in the Merlin lineage of magical transformation. In 2012 the Divine Mother awoke her natural gift to facilitate magic and balance energies large scale. Afterwards, she developed the Devi Earth Magic School, a modern way for you to access mystical gifts and tools to clear patterns of fear, work through trauma and ultimately awaken your True Nature. Devi Earth Magic is the basis of all her group events and continues to seed new avenues to evolve and grow.
After building a successful practice on the East coast, Bette was called to move her private practice to Longmont/Boulder area of Colorado in 2016 and now resides at ARC Retreat Center in Cambridge, Minnesota. She often travels facilitating this work throughout the country and offers weekly transformation groups online.
Please contact BETTE directly to schedule an event, or book a remote/distance individual session, available by appointment.
Read more about her personal journey in the background and qualifications page.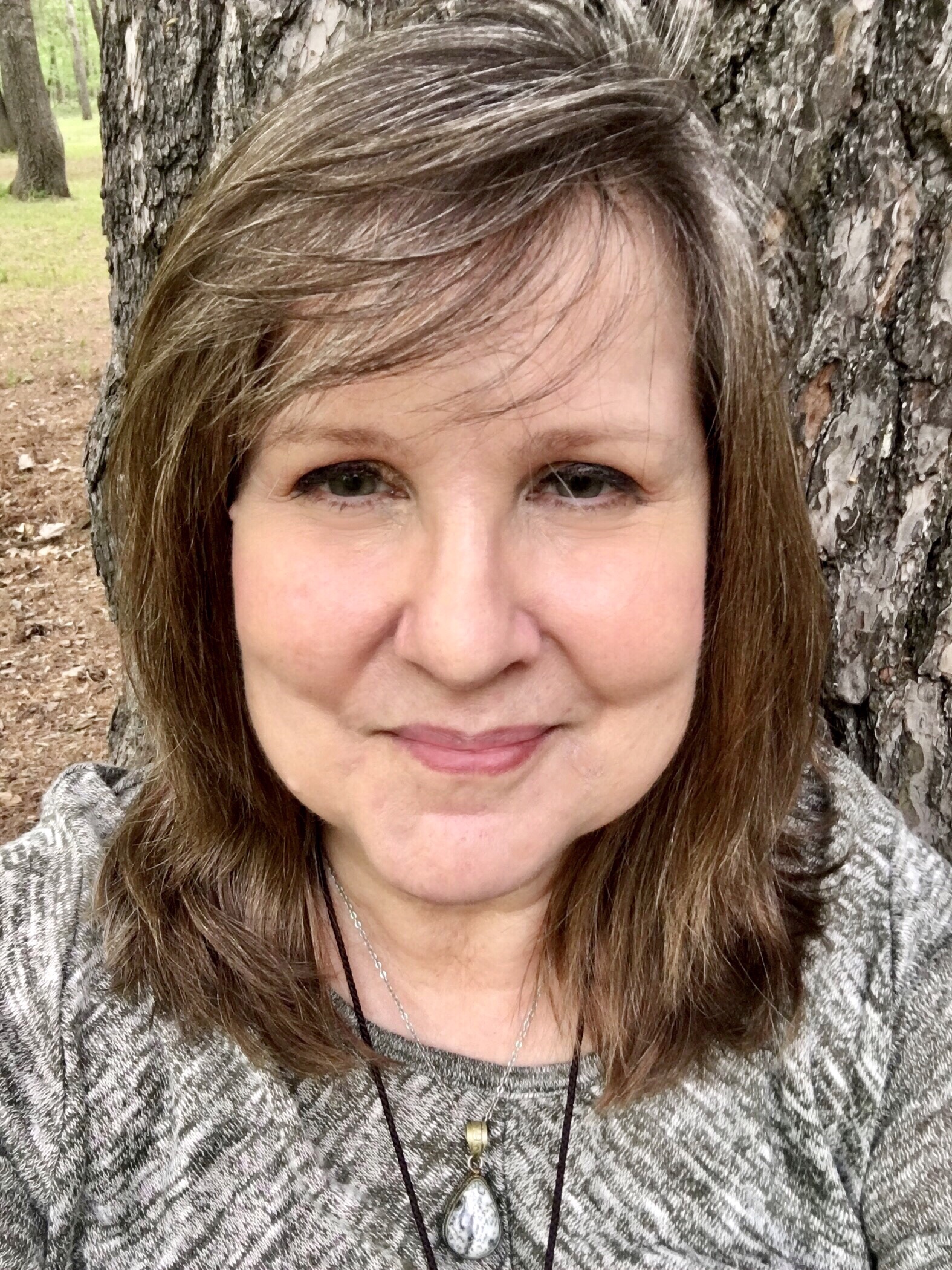 Disclaimer: Multi Dimensional Healing is an energetic practice utilizing VortexHealing® and Devi Earth Magic as complementary energetic healing tools. It is for entertainment purposes only. Services are not a replacement for medical or psychological treatment. Please consult your physician for medical or psychological issues in addition to any follow up treatment needed.
+++++++++++++++++++++++++++++++++++++++++++++++++++++++++
"VortexHealing®" is a registered service mark of R. Weinman VH Trust. All rights Reserved. Used here with permission.