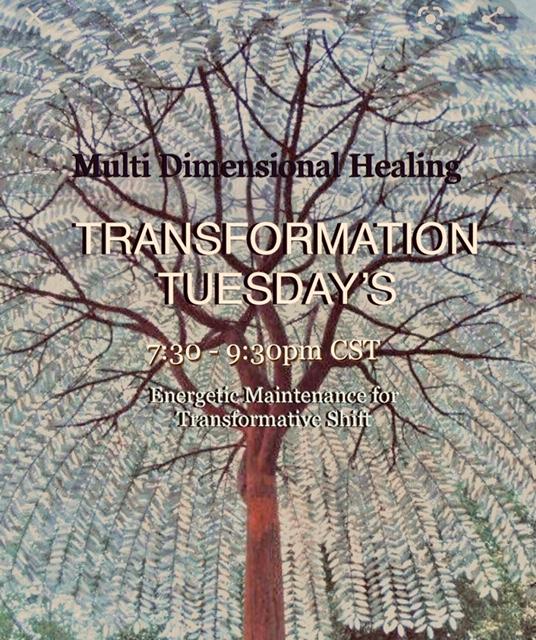 MDH TRANSFORMATION TUESDAY
(formerly ENERGY IMMERSION)

Energetic Maintenance for Transforming People & Planet

Every Tuesday Evening

7:30-9:30 Central / 8:30-10:30 Eastern
$15 energy exchange per session
$56 Series Package*, includes recordings

$111 Premium Package includes BONUS 1-1 personal session

Payment reserves your spot

Multi Dimensional Healing (MDH) Transformation Tuesday is your Energetic Maintenance for Evolutionary times that meets weekly at 7:30pm - 9:30 Central‬ via GoToMeeting (dial in or tune in energetically).
A changing world is shaking us up and requires balance to get through the shifts. Consider your weekly Multi Dimensional Healing *necessary* energetic maintenance to help you navigate through transformative times. It's the exact kind of ongoing support needed to smooth nerves, sync up your energies and clear unwanted patterns so you can meet each day with more confidence. Its your time to serve and be served to receive vibrational help from Divine guides to restore balance and peace inside and out.
Each month we tackle something big that we can't typically get to on our own. In past months we've transmutes fear of failure and the hard hearted places that shut us down.
Bette Hanson facilitates the sessions as a greater calling to service. She is a seasoned and intuitive holistic practitioner who follows a multi dimensional approach specifically designed to prepare you for transforming the kind of deep rooted patterns that can trip us up — the karmic and genetic 'stories' of past conditioning. You're sure to learn more about your dimensionality and gain a greater awareness on how to live more in peace and gain your footing here on an uncertain planet Earth. If this calls to you, this work is here to serve.
Choose to attend one or ALL 5 monthly sessions at a discount. All series package holders receive session recordings, and premium packages get a 1-1 personal session to address any issues that may arise during the month.
PARTICIPATION OPTIONS:
$15 Per Session
$56 Monthly Series Package includes recording downloads.
$111 Premium Series Package includes above plus a personal 1-1 session
OR your payment reserves your spot.

Please include full name AND contact email. Upon payment an email with links to connect to the video/teleconference will be sent separately.
☮️ Your $56 Monthly Series Package includes download recordings of every session. The last Thursday evening focuses on integrating and strengthening your energy system — an important aspect of dimensional shift.
💟Choose to upgrade to a $111 Premium Package with an additional 60 minute personal 1-1 MDH energy session scheduled at your convenience. Non transferable, redeemable or refundable to be used within the month to support your transformational journey.
Here's what participants are saying:
"I'd like to thank you for doing these group healings. They have changed my life and I feel them helping out the planet. I'm so very grateful for you and this modality."
"The energy is strong. I feel a lot of buzzing around me. I feel it like a bubble but I feel a lot of them. Like everyone in their own bubble but they are all stacked up together. I saw an image and it released everything and I got sick to my stomach then released it. It was amazing."
"I am so grateful for the work you are doing to help us humans and the world."
"It's basically miraculous....I feel major changes in myself. The first few days I was very tired and irritable, then it felt like heavy, old mental debris had been taken away overnight. I've been able to laugh deeper and heartier than I have in a long time and I've been able to connect more easily to a grounding sense of peace that just feels... more accessible. It's always been there, but now I don't have to try so hard to reach it."
Thank YOU for engaging in your own transformation process at such a crucial time in our planets development. As we gather together and ask Source for guidance, the Divine answers in Grace filled ways. The bigger the groups the more we can gain strength and help each other. Together, we are changing the world.
"We are all just walking each other home." ~ Ram Dass
WEEKLY ENERGY IMMERSION for Energetic Maintenance
With YOUR feedback I've found that the weekly energetic work tend to bring up more of our hidden issues, and I've recognized the need for personal assistance. To honor your path I've added a 1-1 personal session in a premium package to go along with the monthly group series at a low cost savings for you. If it resonates, I'm honored to serve...

The world has changed and shaken everything to its core. Weekly Multi Dimensional Healings help you navigate through transformative times with ongoing energetic support. This is your time to relax, open up and receive vibrational help to restore balance by clearing the patterns of discord.

It's facilitated by a seasoned and intuitive holistic practitioner following a multi dimensional protocol of phases designed to prepare you for transforming karmic and genetic 'stories' of past patterns into greater awareness — to balance the embodiment of living here on planet Earth. If this calls to you, it is an honor to serve.
The weekly sessions are virtual online/dial-in teleconference group healing OR you can choose to tune in energetically. (Package holders receive recordings) All those who register as confirmed participants, receive the healing whether you attend online or not. With attendance, your awareness is engaged and the energy shifts accordingly. To get the optimal experience, please arrive to the teleconference promptly, all phases are a necessary component to the process. Upon confirmation of attendance, you;ll be sent information on how to connect from your computer, tablet or smartphone.

If you are new to the group, please connect 10 minutes early to receive instructions. The healing will start at the appointed time.

Participating in MDH events deepens your coherence with the Divine Earth, it aligns with current frequencies harmonizing our relationship to all things and each other. We honor Earth by merging with the unified Divine Magic and letting it show us what we need to both reconnect, heal, awaken and transform fear based programming within the collective histories of conditioning that keep us divided and separate.

Whether you are joining in the call or tuning in energetically, it may be a helpful exercise to bring your awareness into the experience, letting go of expectation and opening to receive. Whatever happens during our time together is exactly what it should be.

EARTHWORK
The nature of this work is to alchemically transform the density of toxic stress/fear within the collective fabric of society as it pertains to our personal histories. Clearing old dense patterns creates the space to realign with higher harmonic frequencies like peace. Each group healing is uniquely different to serve you and all of humanity in these tumultuous times. It clears a specific fear pattern to help us balance, restore, remember and reconcile the universal connections alive within us all universally connected to all sentient life and the planet. Aligning with the planet's frequencies grounds us to better flow with change. Transformative times call for a group effort to align with peace, sending it out in harmonic resonance to our communities and the world— feeling it come back to our own hearts to heal old wounds, illuminate the shadows and reconnect to core Beingness.

Participants are surrounded in a safe, nurturing, sacred space and follow a multi phase dimensional experience to include:

Grounding, anchoring & aligning with the planets vibration

Love and Peace frequencies to center and relax.

Energetics strengthen and fuel your system.

Transform and release a fear based pattern signature.

Integrating energies catch up and physicalize shifts

Remanifesting potential with blueprints to repattern and align with emerging Truth

Send White Flowers of Peace to the world as seeds of blossoming change, feel them return to you.
During the release phase, notice what arises and be open to letting it all go. Imagine the freedom it creates to be without the attachment to any of its emotional stories. Energetic events like this can result in detoxing symptoms. Please stay hydrated throughout and continue to practice self care with anything that may arise following the healing. Bless it all as a necessary part of a transformative process.

Everything in nature seeks balance, and I thank you for our energy exchange. As Ram Dass says, "We are all walking each other home."

May our time together be guided by Grace to benefit you, your loved ones and the entire planet.

$15 Energy Exchange to support this work
$50 Monthly Series Package, includes recordings and surprise bonus

$111 Premium Package, includes 1 personal session

Your payment reserves your spot:

NOTE: 👉Please include your email and FULL NAME in Paypal message to attend, OR Email: MDHealing@icloud.com to receive connection details.
🌳Here's what people are saying:

"Oh my, that was very deep and powerful. it shook me, made me nauseous, disappeared me, and blissed me out. Thank you for your beautiful facilitation. I think we must have had a wonderful collection of particular Energy Fields, because we moved a LOT of Energy through the collective. ...you did a great job, while helping us feel safe and sound. It was a delicate dance, nicely done!
~ Sherry Serra, Seattle, WA

BIOGRAPHY: Bette Hanson is an intuitive channel of higher consciousness certified at the highest levels of *VortexHealing® Divine Energy and naturally gifted with Mother Tree of Truth, a nexus point of alchemical healing to balance and transform Truth through Devi Earth Magic. In 2020 she founded Devi Earth Magic School to teach alchemical fundamentals. Since 2006, she's amassed thousands of hours of awakening-based, intensive professional training and serves clients throughout the world. In the USA, she facilitates immersion group events, teaches workshops and offers, 1-1 personal healing's and home/space clearing. Cosmically gifted, she works just as easily remotely or in person. Called forward in these transformational times, she is devoted to serving the Divine awakening of humanity and the planet.

*"VortexHealing®" is a registered service mark of R. Weinman VH Trust. All rights Reserved.

>>>>>>>>>>>> RSVP HERE <<<<<

<<<<<<<<<



CLICK HERE to RSVP via EMAIL
Please Include Your Full Name to Attend.

Only pre-registered attendees get sent the connection links and phone numbers.
>>>>>>>>>>>>>> RSVP HERE<<<<<<<<<<<<<<

Lokah Samastah Sukinoh Bhavantu
May Peace and Happiness Prevail