WELCOME!
Multi Dimensional Healing is an advanced energetic practice that utilizes VortexHealing®, Divine Energy Healing. It's guided by Divine intelligence based in the lineage of magical transformation working through all dimensions down to the genetics. It clears conditioning deeply and profoundly getting to the root, often with transformational results. This is an opportunity to explore and experience your dimensional nature organically in a group setting, or a laser-focused 1-1 individual session.
Whether you are a seasoned healer, or new to energy, each healing is uniquely different each and every time you participate, meeting you where you are to provide exactly what you need. The key is to let go of expectations and be open to the experience as it unfolds. Intentions and the intelligence of Source guide the process to heal, transform, evolve and embody awakening. Each and every healing IS an awakening. The invitation awaits...
Lokah Samastah Sukinoh Bhavantu - May Peace & Happiness Prevail
Where Can You FIND MULTI Dimensional Healing?
Based out of Boulder/Longmont area of Colorado, Bette Hanson facilitates
MULTI DIMENSIONAL HEALING
offering
personal healing sessions
,
group healings
and
workshops
to people and the planet traveling regularly throughout Colorado region, the East Coast and places like Minnesota, Philadelphia, the Hudson River Valley of NY and more. New areas are constantly being added, check the
calendar
section for updates.
I warmly invite you to visit the
Travel
and the
Calendar
pages to see where you can experience this evolutionary energy designed to heal, transform and awaken. MDH routinely visits these states: CO, MN, NY, PA, NJ, DE, MD & VA with more being added as called.
Or you can experience it anywhere you live. Choose a long distance/remote session via Skype, FaceTime or phone to experience the healing benefits in the comfort of your own home.
You'll find that with distance/remote healing,
MULTI DIMENSIONAL HEALING
is just as profound and transformational an experience as in-person.
See what folks are saying below and on the testimonial page:
"WOW is all I can say really! A LOT has been going on here with me….Finally getting a real sense of letting go and not attaching to outcomes, people, etc. You read about this and take classes but having it finally resonate with me and to be actually doing it in baby steps and feeling myself doing it is an entirely new experience!! When I am able to do this, I am more able to be in the present moment and be grateful for my life and what I have in it. I have been reaching out to my guides and angels to help me in doing this. I just feel more peace like there is more of ME coming in now and less of other people. I also feel like I am vibrating at a higher energy level and am now finally wanting only that sort of higher vibration in my life and not settling for lower energy or attracting it.
This is all so amazing and awesome! Thanks so much Bette and I can't wait until our next session!!!"
—
Laura Dresser, Mpls, MN
NEW!!
Multi Dimensional Healing (MDH) Chakra Cleanse Series
In a series of monthly distance group healing's, we'll utilize VortexHealing® at its most advanced levels, MI, to deeply clear each chakra and work on what's most weakening it. Join in the comfort of your home for one, two or the whole series as each chakra progressively is deeply cleared, strengthened and cleansed leaving you better able to adapt to whatever circumstances arise in your life.
If you are feeling stuck or sluggish, you can bet your chakras are the same way. Clearing them will leave you feeling more centered, grounded and focused. In two separate group healing's over a weekend, we'll first clear, balance and strengthen a specific chakra. The second group healing is dedicated to whatever is most weakening or impacting it in a negative way. Each 1.5 hour session is designed to stand alone or combine them for continuously deeper movement.
There will be one pair of group healing's per month; each set will take place on a weekend morning, focused on an individual chakra. Participate as guided or attend them all for a deep chakra cleansing experience designed to clear toxic energies. Each group healing is distance with limited number of spaces available to insure deep clearing. The energy exchange is $35 per session or $60 for each Chakra set. $300 for the entire series.
MDH 1st/Root Chakra Cleanse

Sat, Aug 25, 8-9:30am Mt Time Zone -- Clearing, Strengthening & Balancing $35
Sun, Aug 26, 8-9:30am Mt -- Deep Release $35
MDH 2nd/Sacral Chakra Cleanse
Sat, Sept 15, 8-9:30am Mt Time Zone -- Clearing, Strengthening & Balancing $35
Sun, Sept 16, 8-9:30am Mt -- Deep Release $35
MDH 3rd/Solar Plexus Chakra Cleanse
Sat, Oct 13, 8-9:30am Mt -- Clearing, Strengthening & Balancing $35
Sun, Oct 14, 8-9:30am Mt -- Deep Release $35
MDH 4th/Heart Chakra Cleanse
Sat, Nov 10, 8-9:30am Mt -- Clearing, Strengthening & Balancing $35
Sun, Nov 11, 8-9:30am Mt -- Deep Release $35
MDH 5th/Throat Chakra
Sat, Dec 8, 8-9:30am Mt -- Clearing, Strengthening & Balancing $35
Sun, Dec 9, 8-9:30am Mt -- Deep Release $35
>Payments Paypal, Venmo & Zelle using the email MDHealing@icloud.com
>>Limited spots available in each session. Please confirm participation before paying.
MDH Services
If you are on a spiritual path, transformational journey or transition phase, then MULTI DIMENSIONAL HEALING can be beneficial and impactful tool. It utilizes VortexHealing®, Divine Healing Art to holistically clear conditioning at the root, creating the space and freedom for awakening awareness to arise. Choose to experience the laser focus of a personal session, bathe in the energies of a group healing, or soak in an intensive workshop designed to deeply shift blocked and stuck energy. Multi Dimensional Healing practice also focuses on relationship clearing and home/land/space clearing.

If working individually, each private session is tailored to meet your specific needs taking you deeper into issues and revealing the hidden aspects, blind spots and shadow sides that prevent you from awakening the freedom for your authentic and true Self to arise.
Many are drawn to this work because they are excited about, committed, and willing to take on, the awakening stages of embodiment; choosing to consciously live their higher dimensional beingness. When you decide to participate in an MDH healing session you may receive the following:
Strengthen: Focuses on energizing and optimizing the entire energy system, the chakra's, pathways, intelligence fields and more, on multi dimensional levels. It is deeply revitalizing and energizing and prepares you for deeper release. It also can profoundly benefit those experiencing fatigue, chronic dis-ease or overwhelming stress of change. It is also a wonderful integration for those experiencing high frequency energy overload to catch up your physical & emotional system to all the changes.
Issue Clearing, targets specific areas of programming of our deepest conditioning through a proven protocol. It is for those in need of deep, broad and expansive release of emotional issues, patterns, imprints and conditioning held in our divine, karmic, genetic, and life experience. This level also includes mentoring through direct experience of the awakening and healing process.
Intuitive Guidance: This profound, advanced healing, follows the Divine guidance of the intelligence of Source to release and transmute deeply held conditioning that is most impacting you. It is empathically and Divinely guided healing following a proven protocol.
All these options are holistic, safe and therapeutic in nature. They work progressively deeper with each consecutive session. Choose Package's of 3, 6, 11, and 20 sessions and save $.
Click SERVICES for details and CONTACT to schedule individual sessions or to get additional details on other services. Discounted package pricing information is available by request.
MULTI DIMENSIONAL HEALING
VortexHealing®, Divine Energy Healing
Bette Hanson, VortexHealING
®
PRACTITIONER, UAP
Transformational Energy for Awakening
Multi Dimensional Healing is a holistic energetic practice that utilizes VortexHealing®, Divine Energy at its most advanced levels, Universal Assemblage Point (UAP). It is guided by Divine intelligence based in the lineage of magical transformation working through all dimensions down to the genetics.
Guided by intuitive and empathic abilities, this practice follows intention and allows you to experience and explore the expansive nature of high frequency consciousness designed to heal, transform, evolve and embody awakening.
VortexHealing® is a potent energy healing practice that shifts energy deeply and expansively. While this energy healing modality is not for everyone it tends to attract those on a path of transformation, transition and awakening. The founder of Vortex, Ric Weinman, describes it as working with Divine magic and Love:
" VortexHealing is much more than a healing art. It is a complete transformational process, empowered by Divinity to work with this Divine Transformational Magic and its expression as Love, bringing divine energy and consciousness to anything in creation that needs it. In practice, this enables VortexHealing to work in a very powerful way on the body, the mind, the emotions, and spirituality, to impact all aspects of the body's energy system, and to transform the deepest karmic issues we hold as human beings. --" Ric Weinman, from the book VortexHealing®, A Magical Path of Healing & Awakening, Balboa Press
With Multi Dimensional Healing, every session, group or workshop is an awakening.
Multi Dimensional Healing practice offers the following:
Personal Healings




Group Healings




Workshops




Home/Land Clearing



Relationship Clearing

Experience this holistic practice of energetic healing channeling Divine light and consciousness of VortexHealing to heal the body, transform emotional patterns, and awaken Truth. Please visit the Services Page for more information
LOKAH SAMASTAH SUKINOH BHAVANTU - May Peace & Happiness Prevail
"Let us work together to create a joyous tomorrow, free from conflict, where religions work together in happiness, peace and love. May the tree of our life be firmly rooted in the soil of love. Let good deeds be the leaves on that tree; may words of kindness form its flowers; may peace be its fruit. Let us grow and unfold as one family, united in love—so that we may rejoice and celebrate our oneness, in a world where peace and contentment prevail." -- Amma, Sri Mata Amritanandamayi Devi
"If you want to awaken all of humanity, then you must first awaken all of yourself. If you want to eliminate the suffering in the world, then embrace all that is dark and negative in yourself. For truly, the greatest gift you have to give is that of your own self-transformation." –Lao Tzu

~~~~~~~~~~~~~~~~~~~~~~~
BETTE HANSON BIOGRAPHY:
Bette Hanson is a seasoned holistic practitioner trained and experienced in VortexHealing®, an advanced form of Divine energy healing focused on deeply clearing conditioning and blocked energy..
As an empath, intuitive healer, channel and higher consciousness mentor, she is devoted to serving people and the planet. Each group healing, workshop or event creates a field of radiating waves of energy dedicated to 'Earthwork'. This Earthwork serves to raise and shift consciousness by helping us experience and understand our connection to all sentient life through awakening awareness of our natural Wholeness of Being -- connected to everything.
Through the practice of Multi Dimensional Healing, Bette offers personal sessions, group healings, workshops, relationship clearing and home/space/land clearing/blessing. Certified at the most advanced level of VortexHealing®, UAP, Bette has accumulated over 1200 hours of classes since 2006, serving hundreds of clients on their spiritual path. Certified practitioners complete an intensive series of spiritually expansive training based in awakening and self development based in the Merlin lineage of magical transformation.
After building a successful practice on the East coast, Bette was inspired and called to move her private practice and is now based out of the Longmont/Boulder area of Colorado. She often travels facilitating this work throughout the country.
Please contact BETTE directly to schedule an event, or book a remote/distance individual session, available by appointment.
Read more about her personal journey in the background and qualifications page.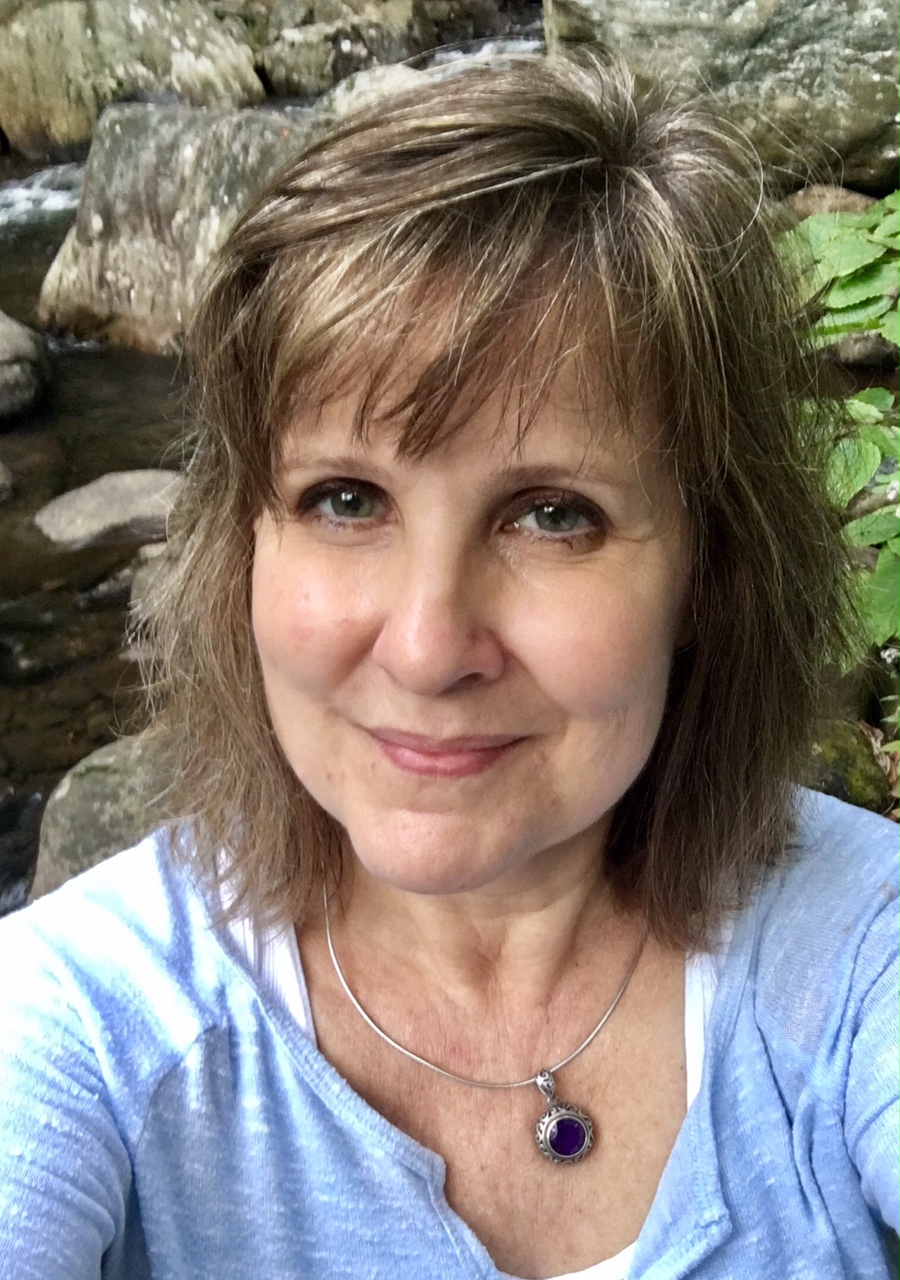 AFTER EXPERIENCING A MULTI DIMENSIONAL HEALING, IT HAS PROMPTED OTHERS TO SPEAK AND EVEN DRAW THEIR EXPERIENCES.
Teacher and Artist, Jacqueline Cooper describes her experience as follows: "Bette's group healings are known to have profound impact on both a personal and planet level," Jacky writes of her experience of how she visualized the Multi Dimensional Healing group healing at Being One Center, in Pennsylvania in 2016.
"As we settled into our Multi Dimensional Healing meditation, I feel the grounding energy that surrounds me. With the intention set to receive any information that will allow spiritual growth I give myself to these energies. As time dissolves before me I travel to other dimensions observing from above a group of souls here to work together as one. A center Soul (Bette) captures the Divine Energy to anchor the group. As we unite trough roots descending into Mother Earth's highest source of energy. From above a golden and white light radiates down to the heart of each soul and within each soul there is a sharing of this Divine Light. 'As above unites with as below' in perfect harmony connecting our souls to each other. As we also connect our knowledge to the source above we download all information needed to grow spiritually. We are all one in this sacred geometry of light."
~~~~~~~~~~~~~~~~~~~~~~~~~~~~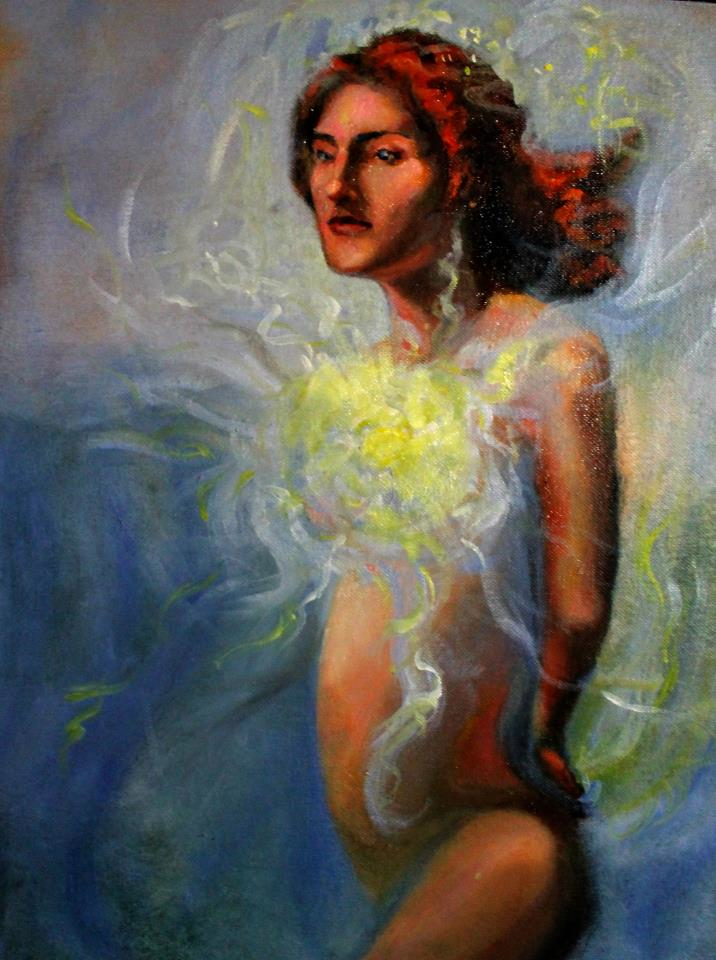 Another artist, Carrie, was inspired to create a painting after experiencing a group Multi Dimensional Healing:

"Here's a painting I did. I'm calling it

"Sacred Rose"

... She writes: "It's still a work in progress trying to illustrate the feeling of opening the heart chakra. The energy was interesting at the healing. It felt very cleansing and felt as if my nose was breathing pure, clean air. Crisp, as if the breath was activating, charging the air. It did cleanse my sinuses. When I got home, the 'clean' antiseptic energy became thicker, more palpable. It spread throughout my body, everywhere and anywhere, and out! Even my eyes feel different. My nostrils are still flaring! --

Carrie B., Media, PA
"All that is necessary to awaken to yourself as the radiant emptiness of spirit is to stop seeking something more or better or different, and to turn your attention inward to the awake silence that you are."
~ Adyashanti
"VortexHealing®" is a registered service mark of R. Weinman VH Trust. All rights Reserved. Used here with permission.
Disclaimer:

Multi Dimensional Healing is an energetic practice utilizing VortexHealing® as complementary energetic healing tools. They are not a replacement for medical or psychological treatment. Please consult your physician for medical or mental issues in addition to any complementary healing you may receive.