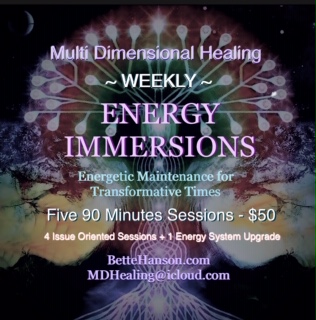 NEW!

MDH's Energetic Maintenance for Transformative Times

Dates: July 30, Aug 6,13, 20 & 27
Time: 7:30-9pm CDT/8:30-10pm EDT
5 Virtual 90 Minute Sessions — $50 package*
Or $15 energy exchange per session.
Email MDHealing@earthlink.net for details
Whoooooo doggy everything is in flux. Nearly everyone I know has things coming up for resolution. A lot of it is our karmic history — the dense, entangled and messy repressed stuff of our past 'stories' influencing our current life here on the planet. It's a collective call for change. How are you responding? Here's your chance for help.
For the last 10 years, Multi Dimensional Healing has specialized in deeply transforming fear-based negative patterns to awaken your true nature.
The group work assists your development in clearing outdated blocks of conditioning and realigning with a harmonious coherence serving your highest potential. The healings follow a proven protocol that gets to the hardest places to reach — at the root of your personal and collective karmic and genetic conditioning. Guided by the intelligence of the Divine each group is unique yet builds upon itself for continuous movement. As an example, the last group healing cleared a layer of fear that feels unworthy of Divine Love. It was a profound shift.
After four 90 minute sessions, we spend the fifth immersed in fine tuning our energetic systems to better adapt to the shifts within us and within our changing environment.
It is truly energetic maintenance needed for these uncertain times to build strength and better cope with internal and external upheaval through deepening our connection to center in the Oneness within everything that never changes — our timeless, formless higher Self.
Priced low to meet everyone's needs, these events are a form of earth work. The group field enhances the personal impact and also works collectively to help harmonize humanity's shifting status.
The Earth IS awakening, we have a rare and special opportunity to help her change through learning to live in harmony with ourselves.
*Package price purchased before July 30th
WEEKLY ENERGY IMMERSION for Energetic Maintenance
MDH Virtual Group Healings
Evolutionary Energetic Maintenance for Transformative Times

You're warmly invited to join the next MDH Virtual Online Group Immersion via teleconference.
We'll energetically connect in a group, to harness our collective energies to help ourselves, one another and the greater good of all.
Every Thursday

*NEW* TIME: 7:30-9pm CDT/8:30 - 9pm EDT

(Chicago, USA Time zone)

$15 Energy Exchange

NEW: 💫Shifting planetary influences are impacting our vibrational reality. Experience relief with the magical Healing Pool as it sync's up our bodymind energy system with the current frequencies. We become instantly aligned as a fluid, flowing conduit of change.💫

Since the onset of this crisis, Multi Dimensional Healing has been offering transformative healings by donation to charity. Pre-COVID19
I was charging $35,

I'm currently asking $15 per group to support this work (with a monthly package discounted rate) offering a reasonable costs during tough times. However, if you are financially strapped, and funds are not available, this healing is especially for you, please attend as my honored guest.

Transformative times call for deep work to clear all the old patterns to make way for peace and harmony to arise within. Joining this group effort to align with peace, sending it out in harmonic resonance to our communities and the world— feeling it come back to our own hearts to heal old wounds, illuminate the shadows and reconnect to core Beingness -- is what we came here to do.
The planet is awakening and changed we have the opportunity to help it transform by helping ourselves awaken with her. Stress is amplified now, our regular coping mechanisms and calming practices may not be enough. This is your time to relax, open up and receive Divine frequencies to restore balance by clearing the patterns of discord.

With Divine illumination, we find unresolved fears buried in ancient layers of our dimensional history: the old stories of conditioned fear and ancestral struggle that were never resolved.

As we call in ancient guides affiliated with Devi Earth Magic they answer and we clear them together. A sacred container surrounds us, following a proven protocol to create the energetic environment for our shadows, the hidden unresolved conditioned to transform back to balance. This past conditioning influences us day to day, triggering emotional upset and keeping us from staying calm, grounded and centered.

Facilitated by a seasoned healer, high frequency energies from Devi Earth Magic are introduced in phases designed to prepare us for getting into the hardest to reach areas—our blind spots. When we meet our hidden fears and move through it together, the group support is augmented by the Divine, the awareness that empowers us, as us.

Multi Dimensional Healing (MDH) specializes in alchemical transformation in support of awakening out of separation and strengthening our awareness of the formless, timeless, eternal Presence — to balance the embodiment of living here on a karmic Earth. If this calls to you, I am honored to serve.

$15 Energy Exchange to support this work
Payment Link: ‪ https://paypal.me/mdhealing

NOTE: 👉Please include your email and FULL NAME in Paypal message to attend, OR Email: MDHealing@icloud.com to receive connection details.
🌳Here's what people are saying:

"Oh my, that was very deep and powerful. it shook me, made me nauseous, disappeared me, and blissed me out. Thank you for your beautiful facilitation. I think we must have had a wonderful collection of particular Energy Fields, because we moved a LOT of Energy through the collective. ...you did a great job, while helping us feel safe and sound. It was a delicate dance, nicely done!
~ Sherry Serra, Seattle, WA

BIOGRAPHY: Bette Hanson is an intuitive channel of higher consciousness certified at the highest levels of *VortexHealing® Divine Energy and naturally gifted with Mother Tree of Truth, a nexus point of alchemical healing to balance and transform Truth through Devi Earth Magic. In 2020 she founded Devi Earth Magic School to teach alchemical fundamentals. Since 2006, she's amassed thousands of hours of awakening-based, intensive professional training and serves clients throughout the world. In the USA, she facilitates immersion group events, teaches workshops and offers, 1-1 personal healing's and home/space clearing. Cosmically gifted, she works just as easily remotely or in person. Called forward in these transformational times, she is devoted to serving the Divine awakening of humanity and the planet.

*"VortexHealing®" is a registered service mark of R. Weinman VH Trust. All rights Reserved.

>>>>>>>>>>>> RSVP HERE <<<<<

<<<<<<<<<



CLICK HERE to RSVP via EMAIL
Please Include Your Full Name to Attend.

Only pre-registered attendees get sent the connection links and phone numbers.
>>>>>>>>>>>>>> RSVP HERE<<<<<<<<<<<<<<

Lokah Samastah Sukinoh Bhavantu
May Peace and Happiness Prevail